Mudlum The writer and literary critic Made Luiga, who writes under the pseudonym Mudlum, lives in both Tallinn and on the small island of Muhu. Born in 1966 in Pärnu, she studied Theatre Studies, Estonian literature, and philosophy at the Estonian Institute of Humanities and graduated from the Estonian Academy of Arts. Mudlum has been a member of the Estonian Writers' Union since 2017. Mudlum published her creative output through her involvement with the literary group ZA/UM and its culture and society blog; her mature, developed debut story collection Tõsine inimene (A Serious Person, 2014) earned the instant attention of critics, and was also nominated for the Estonian annual literary prize.

Book Cover of Tõsine inimene
In 2017 she was awarded the prestigious Friedebert Tuglas Short Story Award for her short story, 'Ilma alguseta, ilma lõputa' ('Without a Beginning, Without an End'), from the collection Linnu silmad (A Bird's Eyes, 2016).
Book Cover of Linnu silmad
Mudlum's style is very memorable: the worldly, meticulously expressive author constructs everyday poetics in stories of wondrous nostalgia. She creates detailed memory pictures from the past, evoking a distinctive chamber atmosphere. In her first novel, however, she takes a different path – as if the whole work was composed from a creation of tiny mosaics, related by young people in a suburb of Warsaw, who have their whole lives ahead of them. In the novel, it is captivating how the characters' own personal stories are interweaving and diverging, while also being integral to the whole. As in her short stories, Mudlum has here perceptibly and meaningfully described space. In critical review, Mudlum has also been called a contrary and experimental author, which in turn indicates the appeal of her style.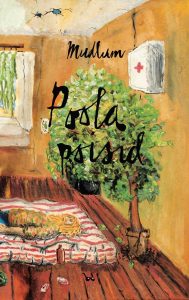 Book Cover of Poola poisid
Mudlum's novel Poola poisid (Polish Boys, 2019) won Estonia's highest annual prose award and the 2020 European Union Prize for Literature. Mudlum's latest novel Mitte ainult minu tädi Ellen (Not Only My Aunt Ellen 2020) also won Estonian annual prose award for the second year in a row.
Book Cover: Mitte ainult minu tädi Ellen