Frederico Pedreira was born in 1983. He has published six books of poetry, two novels, a collection of short stories and a book of essays. After pursuing a master's degree at Royal Holloway, University of London, where he wrote extensively on Joyce, Beckett and John Cassavetes, Pedreira returned to Portugal to become a journalist, translator and bookseller. Since then, he has lived in Italy and France, won an academic scholarship and did a PhD in literary theory at the University of Lisbon. In 2016, a book based on his dissertation was awarded the INCM/Vasco Graça Moura Prize for best essay in humanities. Throughout the years, his books have been acclaimed by the Portuguese press. He has recently finished writing a long essay dealing with the notions of intimacy and theatricality in poetry and the visual arts, drawing on a long and often overlooked tradition of Portuguese poets of the second half of the 20th century and beyond. Pedreira has translated collections of poetry by W. B. Yeats and Louise Glück, books of essays by Chesterton and Orwell, and novels by Dickens, Swift, Wells, Hardy, Banville and Woolf. His interests include philosophy of language, literary criticism, perception, scepticism, the philosophers Wittgenstein and Stanley Cavell, and the art critic Michael Fried.
EUPL Year 2021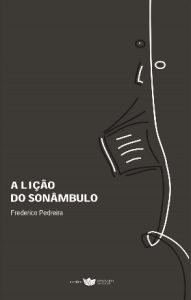 A LIÇÃO DO SONÂMBULO
(THE SLEEPWALKER'S LESSON)
A boy obsessed with losing weight spends his endless summer holidays at his grandparents' home – the iconic 'green house' where his father and six uncles once lived, leaving behind a treasure of objects and memories. With his brother, he incessantly watches a videotape of the 1990 European Cup Final between AC Milan and SL Benfica while, unnoticed, the family dog suffers an epileptic attack. In the hot summer nights, the boy gazes, dreaming, at 1980s posters advertising tobacco brands and of famous racing drivers like Fittipaldi and Prost. There is an immense library in the green house, once the property of his great-grandfather, who in his lifetime became somewhat close to the famous Portuguese writer Fernando Pessoa. Abandoning his obsession with football, the boy focuses on the dusty spines of endless rows of books, questioning the choices of his ancestor, whom he saw only once or twice when he was in a state of decrepitude. A journey of self-discovery begins, starting with the boy's cherished travels with his mother – to the United States, Tunisia and Brazil – and ending with a conflicted period of existential self-doubt in the stuffy room of a college dormitory. The boy becomes a young adult who – surrounded by not so sane aspiring students from all over the world – feels he shouldn't have left his country and comes to loathe the idea of being a 'citizen of the world'. However, there is a new friend and a new family waiting for him. Will that be enough to make sense of his past and its link to his chosen future?
EUPL | Video
https://v.youku.com/v_show/id_XNTgzMDUwNjY0OA==.html
Contact Details
Organisation: Companhia das Ilhas