Undinė Radzevičiūtė was born in 1967. She graduated from the Vilnius Academy of Arts where she studied art history, theory and criticism. She worked for ten years as a creative director for international advertising agencies including Saatchi & Saatchi and Leo Burnett. Her first short novel was published in 2003 and was favourably reviewed. Fishes and Dragons is her fourth and biggest book so far. Two of her earlier novels have been translated into Russian, and one into Estonian.
EUPL Year 2015 | Winning Book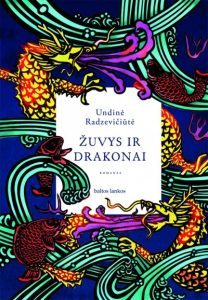 ŽUVYS IR DRAKONAI
(FISHES AND DRAGONS)
The title of the book symbolically refers to two cultures: Christian European and traditional Chinese. Two different stories are interwoven here: one depicts the life of a Jesuit painter in 18th century China, the other mostly takes place in an old-town flat of a present-day European city. The flat is inhabited by an old woman, her daughter and two adult granddaughters; it eventually turns out that one of them is writing the Chinese line of the book. The novel is suffused with dialogue that can be seen through the prism of Zen principles (as the author herself has suggested). On the other hand, the misunderstandings and playfulness in the book creates a comic effect with a tinge of the absurd. With her signature lapidary style, Undinė Radzevičiūtė has written a novel where the texture of the modern European storyline is coloured with oblique reflections of traditional Chinese culture and mentality. The Chinese narrative subtly reveals the unbridgeable gap between Christian European and traditional Chinese mindsets in the context of the failure of the Jesuits' missionary effort.
EUPL | Video
https://v.youku.com/v_show/id_XNTgzMTQ2NDIyMA==.html