Kristian Bang Foss was born in Denmark in 1977. After initially starting a BA in mathematics and physics, he graduated from the Danish Writers' Academy in 2003. His first novel Fiskens vindue (The Window of the Fish) was published in 2004 and impressed reviewers with its linguistic style and accurate depiction of seemingly ordinary everyday actions and pursuits. His début was followed by Stormen i 99 (The Storm in 99) in 2008, which takes place in an ordinary workplace environment that, with wonderful black humour, becomes the epicentre for slandering, games of power and a variety of absurd events. In his winning novel Døden kører Audi – which in its absurdly humorous style uses characteristics from the traditional 'on the road' novel – he tells a satirical tale about the Danish welfare state and takes its characters on a trip through Europe to Morocco in search of a healer.
EUPL Year 2013 | Winning Book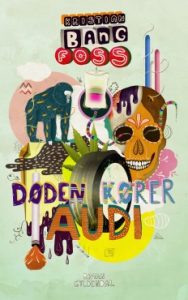 DØDEN KØRER AUDI
(DEATH DRIVES AN AUDI)
Asger lives with his girlfriend and her daughter in Copenhagen and works for an advertising agency. It's 2008, the credit crunch has just begun to bite, and after leading a catastrophic campaign Asger is fired. He spends his days lying on the sofa, developing problems with both his weight and alcohol. His girlfriend breaks up with him and he moves to a flat in Sydhavn, losing contact with everybody. Half a year later, he is forced to take on a job as a disabled carer in Stentofte, a dreary concrete suburb of Copenhagen, looking after a sick man called Waldemar. Their daily life together is a study in hopelessness. But Waldemar has a plan: he wants to go and see a healer in Morocco. Asger is sceptical, but nevertheless he helps Waldemar raise money for the journey, and after a while the two friends find themselves on a road trip through Europe. However, they are being followed by a person in a black Audi – and as they get closer to Morocco, the trip turns into a race with death.
EUPL | Video
https://v.youku.com/v_show/id_XNTgzMDgxNjYyNA==.html
Contact Details
Organisation: GYLDENDAL